Today's million-dollar question is, which is better: roof racks or hitch racks? Both of these racks have people who swear by them, but which one takes the cake? And if you're splurging on one of the best hitch bike racks for electric bikes, will it be worth it?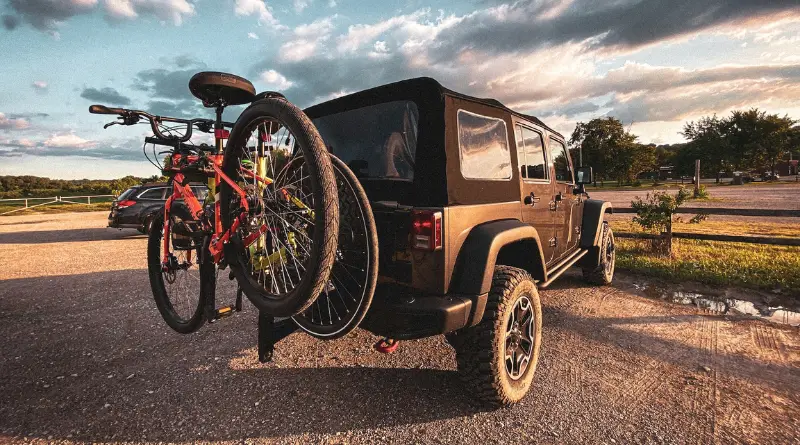 However, roof racks are also popular, and some cars even come with general-use roof racks built onto them. Read on to find out which one is truly worth investing in.  
Which is better: Roof racks or hitch racks?
Which is better: roof rack or hitch rack? I'd say it depends on your preferences and what kind of cargo you plan to haul.
Hitch racks are perfect if you just need to carry a few extra things on a short trip. If you want to carry lots of gear and much larger and bulkier outdoor equipment, a roof rack will be your best bet. Roof racks can carry just about any bicycle, including electric bikes, fat bikes, and even dirt bikes with the right accessories.
Although roof racks are great for their versatility, they're not the most accessible option.
Hitch racks, on the other hand, are easy to get to. Whenever you need something from your hitch rack, you just get out and get it. Additionally, you'll have to hoist all your gear over your head to load a roof rack.
Consider a hitch rack if this isn't your thing. Hitch racks are easier to load and unload.
What Is the Difference Between Roof Racks and Hitch Racks?
The basic difference between the two racks is where they are connected to your car. As the name suggests, roof bike racks are screwed on the top of the car, while hitch racks are attached to the tow hitch behind the car. 
Is It Worth Getting a Roof Rack?
Roof racks are a very popular choice for people looking to haul items in their cars. The biggest advantage of these racks is their versatility: you can use them for anything from carrying bikes to luggage and more. 
However, roof racks have their disadvantages too. For example, you cannot drive real fast or cover long distances with roof racks. The racks will not only worsen your gas mileage but the air pressure can even cause them to come loose. 
Are Hitch Bike Racks Worth It? 
Hitch bike racks are one of the safest bike hauling methods on the market. Not only do they carry more weight, but they are also safer, and have little effect on your gas mileage. Additionally, hitch bike racks are the simplest to install after trunk-mounted ones. 
However, hitch bike racks aren't something every driver can choose. Some cars may not have a tow hitch at all, limiting the driver's choice to trunk-mounted or roof-mounted racks only. 
What Kind of Bike Rack Is Easier to Use?
Hitch bike racks are without a doubt the easiest to use out of the two. Firstly, a hitch-mounted bike rack takes very little effort to attach, while roof racks have to be fixed to the roof using bolts. Secondly, you can easily mount and dismount a bike from a hitch rack. On the contrary, lifting a bike over your head and strapping it on the roof is a far tougher feat. 
Roof-mounted bike racks are also a real problem for garage owners who can hit garage roofs while driving in and out of them. 
This doesn't mean they're are no problems in using hitch racks though. Many cars come with roof racks built-in at purchase, and you only need to assemble a bike rack on top. This is undoubtedly easier and cheaper than using a hitch rack.  Finally, you need to make sure your hitch rack is not blocking your rearview mirror, as that can be a serious driving hazard. Still, which is better: roof racks or hitch racks? If you have a tow hitch on your car, we recommend you invest in a hitch-mounted one for sure. It's simply more convenient.
Also read: What Is the Lightest Hitch-Mount Bike Rack?