When looking for the best hitch bike rack for electric bikes, the weight of the rack itself is always an important consideration. And that naturally leads to the question, what is the lightest hitch mount bike rack? Lighter racks are easier to install, handle, and remove, and luckily, we've found the lightest one you should consider buying below.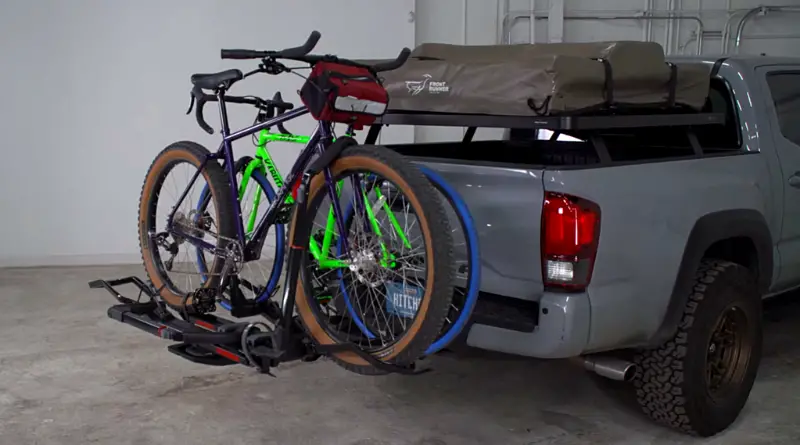 What Is the Lightest Hitch-Mount Bike Rack?
Weighing just 19 pounds, the Lightbull bike rack is the answer to the question "what is the lightest hitch-mount bike rack" on the market? Its competitors like Thule T2 Pro XT2, the Yakima Holdup Evo, and the Kuat NV 2.0 all weigh more than 50 pounds each. 
It seems impossible that the Lightbull rack would weigh about 30 pounds less than competing products by top brands, but that is exactly what the brand has done. Still, it is important to clarify that the project isn't yet on the market and is gathering funding on Indiegogo. 
Even though the rack is very lightweight, it is sturdy enough to carry 2 bikes, at a combined weight of 130 pounds. Additionally, the rack is very compact, measuring 30 x 18 x 11 inches when open, and 24 x 15 x 11 inches when folded. 
How Much Does a Standard Hitch Bike Rack Weigh?
A standard hitch bike rack can weigh anywhere from 30 to 50 pounds easily. Some heavier options can go above 50 pounds, but the industry minimum was 30 pounds before the Lightbull rack was released. 
For example, the Swagman XC2 weighs 32lbs, the Yakima RidgeBack 4 weighs 35lbs, and the Thule EasyFold XT 2 weighs 45lbs. On the bigger end of the spectrum, the RockyMounts BackStage, a rear cargo bike rack, weighs a surprising 63 lbs. 
How Much Weight Can a Hitch Bike Rack Hold?
This varies from product to product, with the standard weight load being between 60-130lbs of combined weight. Some high-end bike racks, those on the upper price end of the price scale, can also carry up to 175lbs. 
There is a certain difference between the weight limits of different products. Lightbull's bike rack can carry about 130lbs, and the Thule Pro XTR can carry 120lbs. The Kuat V2 comes in three versions: 1-bike, 2-bike, and 3 bikes, with weight capacities between 60 and 120lbs. 
Hitch Bike Racks Are Best for What Vehicles?
A hitch bike rack is perfect for every vehicle as long as it has a receiving hitch. Most vehicles have one, but for those that don't, it's very cheap to have it installed. 
Hitch bike racks are really good for people that need to carry two or more bikes because they can carry a lot of weight. They are also perfect for frequent users because they are easy to install. We recommend against their use for RVs, mainly because these heavy vehicles experience a lot of bumps on the road. Also, no matter which rack you are buying for your RV, make sure it is RV-approved. An unapproved rack can get your warranty in trouble if you sustain damage.
Also read: Which Is Better: Hitch or Trunk Bike Rack?