Are you thinking of purchasing a bike rack for electric bikes with ramp? Or perhaps you've got your eye on a new one and want the best one out there. What kind of bike rack is easiest to use?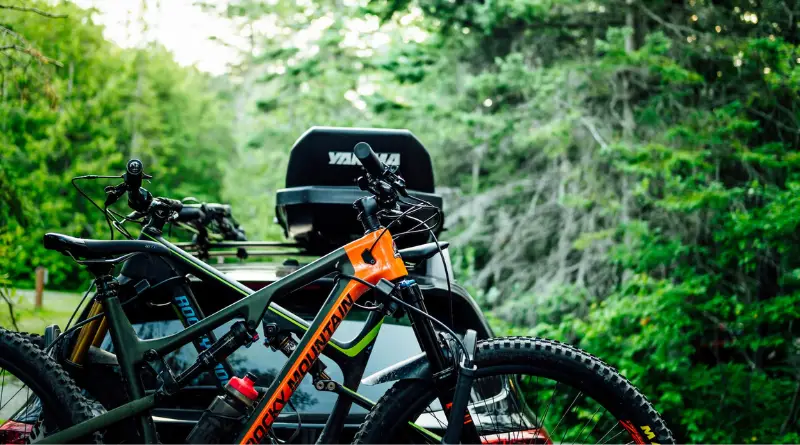 Bikes are heavy, so the best rack would undoubtedly be the one that allows us to mount our bikes easily. If convenience is what you need in a bike rack, keep reading to find out which one is easiest to use. 
What Kind of Bike Rack Is Easiest to Use?
Hitch bike racks are the easiest types of bike racks to use. Not only are they easy to install, but the best part is that they are very close to the ground. Bikes can weigh anywhere from 10 to 15 kg, so racks that don't require you to lift them high are the best. 
It is for these reasons that people stay away from roof racks. It's simply not easy to lift such heavy bikes over your head. Sure, you might be able to make it work for smaller cars, but for taller cars like SUVs, a roof rack is a nightmare. 
Still, the rack can work really well for people that don't want to take the rack off when it's not in use. Leaving a roof rack on your vehicle may be inconvenient, but won't create major issues. 
Finally, trunk racks are strapped behind the car and don't require you to lift the bikes too high. However, they block access to your car's trunks, which can be a problem for some people. You'll have to take the rack off every time you want to open your trunk, or you can risk it collapsing from the weight.  
What Is the Easiest Bike Rack to Load?
A hitch bike rack is the easiest rack to load your bike on. These bike racks come with either supporting arms or tire ramps, and all you have to do is fit your bike on them. Hitch bike racks will come with safety straps, and you'll find instructions on how to use them in the manual. Once you secure your bike with the straps, you're good to go. 
What kind of bike rack is easiest to use? Not a roof rack, that's for sure. Not only do you have to lift your bike to mount it on your roof rack, but some racks also require that you remove your wheels before mounting your bike. You then have to further secure the bike on the rack, and it's still not as safe. 
How Do I Choose the Right Bike Rack Based on Ease of Use? 
What kind of bike rack is easiest to use for you depends on what you dislike about using bike racks. Is it having to install the bike rack every time you want to use it? Then a roof rack is perfect for you. Do you want something that can be easily installed and removed? 
A trunk bike rack will be very easy to use. And if you find it difficult to lift your bike really high, you'll be comfortable with a hitch bike rack.
Also read: How High Should a Bike Rack Be?