Whether you're thinking of buying a bike rack for electric bikes with ramps, or have bought one already, placement is probably a big concern for you.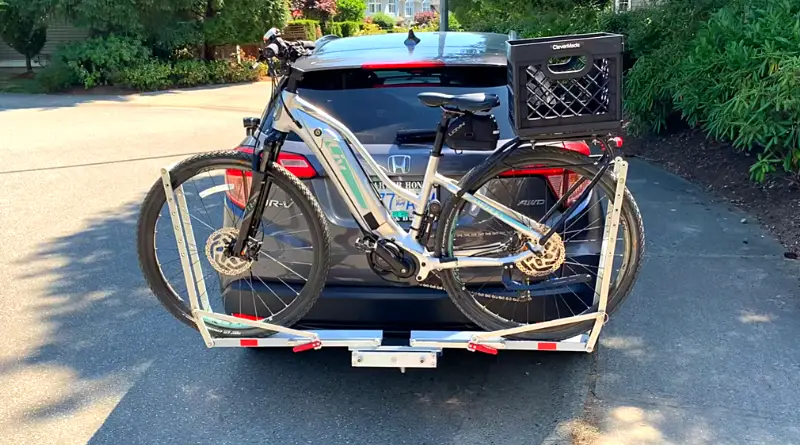 How high should a bike rack be? What size of bike rack will work for what car? And how do you install your bike rack for safe traveling? These are all questions that we've answered below to make your bike rack attachment problems easier to solve. 
How High Should a Bike Rack Be?
A trunk bike rack should be high enough that it is in the middle of your trunk. It should be installed so that once mounted, the bikes' tires are not hanging below the bumper of the car. If your wheels are hanging near the exhaust, the hot air will cause the tires to melt. 
How big or small your rack is, matters only when you think about how many bikes you want to carry. As long as the bikes are safely installed, you can choose whatever size you wish. 
How Far Should a Bike Rack Be From a Vehicle Wall?
A bike rack should be far enough from the vehicle wall to avoid any physical contact of the bike or rack with the wall itself. If anything is in direct contact with your car, even if it's just resting lightly against the surface, you're going to need a different rack. 
It might seem like resting your bike slightly against your car is no big deal, but you need to account for the bumps you'll experience when driving. The bike will move with every jolt, and will most likely rub the finish off your car. 
How Much Space Do You Need to Hang a Bike on Your Car?
There is no requirement for how much space you need to hang a bike on your car when talking about trunk and hitch bike racks. For a roof bike rack, you're going to need your roof to be at least the length of your bike. Since a bike is mounted upright on the roof, you can measure your bike from wheel to wheel to get an idea. 
All bike racks are available in a plethora of sizes, so you can find one that suits you best. If your car's trunk is small, you can simply mount the bike slightly diagonally to reduce height. How high should a bike rack be? If you hang a bike diagonally, it simply doesn't matter. 
Is It Okay to Store Bikes Vertically?
Yes, it is perfectly fine, and even recommended to store your bikes vertically. Hanging your bikes vertically not only saves a ton of space but if you've got multiple bikes, can prevent them from damaging each other too. 
Some people do claim hanging bikes vertically can cause the hydraulic brakes to go spongy. However, you can simply pull the levers a few times to resolve this issue. 
What Is the Best Way to Hang a Bike?
The best way to hang your bike is to get a vertical wall or ceiling rack for your bike. These need to be screwed in, and then you can hang your bike from them. How high should a high rack be? 
We recommend it be at least 33 inches from the ground, or at your hip height.
Also read: What Is The Easiest Bike Rack To Load?