What is the easiest bike rack to load? Or are you looking for a bike rack for electric bikes with a ramp? There are all sorts of bike racks available, but if you have a heavy ebike or a fat bike, you don't want to be lifting your bike onto a roof rack. So keep reading to find out which bike racks are the easiest to load and what you should take into consideration.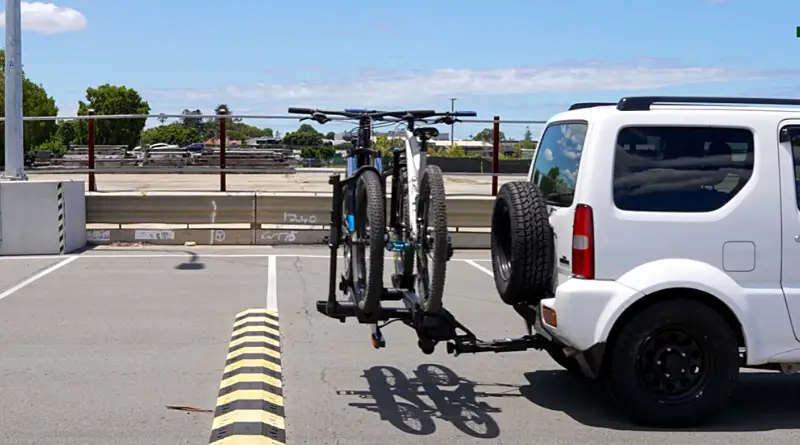 What Is The Easiest Bike Rack To Load?
The easiest bike rack to load is a hitch mounted bike rack with a ramp like the Hollywood Racks Destination E hitch rack that can carry just about any size or type of bike. Of course, you will need a hitch fitted to your vehicle, but once installed you can easily load a hitch bike rack with a wide range and number of bikes.
Other hitch bike rack brands with a ramp include Thule, Yakima and Saris, so you're sure to find one that fits your biking needs.
However, hitch mounted bike racks come with a price. So, if you're looking for a budget friendly option that is still easy to load, (and if you're lucky enough to own a big truck) then tailgate pads, like the Race Face T2 Tailgate Pad, are simple to load, especially if you can rig up a ramp, and are gentler on your wallet.  
What Kind Of Bike Rack Is Easiest To Use?
The kind of bike rack that is easiest to use will depend on you, your vehicle and your bike. Most of the big bike rack manufacturers offer different types of bike racks, and they all claim to be easy to use. So how do you choose?
Here's some things for you to consider:
How many bikes you want to carry
The style of bike you want to carry (ebike, beach-cruiser, mountain bike, kids bikes)
The width of the tires on your bike
If you can easily reach the roof of your car, or is the rear more accessible
What type of vehicle do you want to attach the bike rack to (RV, car, hatchback, truck)
If you want access to your trunk
Security for both the rack and your bikes
Your pocket
So make sure you read up on the pros and cons of the different types of bike racks (including hitch mounts, roof mounts, trunk mounts and tailgate pads) before deciding.
Which Bike Rack Holds The Most Weight? 
If you are looking for the bike rack which holds the most weight then we need to take a look at bike racks that are specifically designed to carry heavy bikes.The VelociRAX range of bike racks is part of a new breed of hanging hitch bike racks that can carry up to 3-7 bikes (max 230lbs), or 4 ebikes weighing a maximum of 55lbs each. Their patent-pending system allows you to roll bikes on and off, so there's no need to lift heavy bikes.