Check out the Kuberg Challenger, a sleek, clean electric trial dirt bike with an active profile.
Originally from the Czech Republic, Kuberg makes dirt bikes with cutting-edge technology. Kuberg sets out to make the best electric dirt bikes possible as a pioneer in the electric motorcycle market. Due to this determination, they built bikes that rocked the world of motorcycles.
It's true that this state-of-the-art electric dirt bike costs $4699.99 USD (almost like buying an entry-level sportbike), but having fun days at the dirt track (or just your backyard) is certainly worth the price.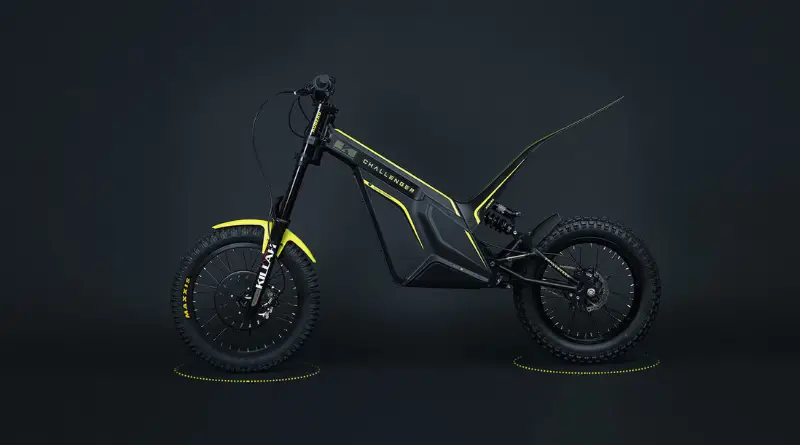 What is the Kuberg Challenger?
The Kuberg Challenger is Kuberg's latest electric trial dirt bike for adults. Currently, it's the only model in the series, but it does come with optional items to make it look (and feel) like a completely different bike. It looks a bit like the Trial Hero, which is one of Kuberg's kids electric dirt bikes.
Overview
Challenger Features
Kuberg's Challenger electric dirt bike is the pinnacle of their electric dirt bike lineup, boasting the newest and most advanced components available. It has Kuberg's mobile app connectivity and digital performance adjustments. Aside from the clean and sleek design, this bike looks like it came straight out of a sci-fi movie.
Challenger Display and Batteries
As with all Kuberg electric bikes, the Kuberg Challenger doesn't have a built-in display, instead using your phone as a display and digital toolkit for performance adjustment. You can also adjust the bike's performance manually using a button on the bike's body.
Kuberg Challenger runs on a 48V 16.8Ah Lithium battery, giving it a range of up to 1 hour at full throttle. Doesn't sound like much fun. Luckily, you can add a bigger battery which increases the bike's range to 2 hours on continuous full throttle.
Batteries are mounted under the "gas tank" centrally on the bike. They're easily removable via a lid that clips onto the pack. The Challenger's clean, fully-covered core design also makes this part of the bike waterproof, which is great for riding in the rain.
Challenger Frame
With an aluminum hydroformed frame for a clean texture and a solid steel swing arm, the Kuberg Challenger can handle rough rides with ease. 
Hydroformed aluminum has a great surface quality. Because the metal sheet never comes in contact with the actual tooling, there's less of a chance of damage to the sheet's structure or surface.
Due to its geometry (there's another bike in Kuberg's lineup aesthetically similar to this called Trial Hero) and a missing seat, the standard Challenger doesn't look like a typical dirt bike — rather a trial bike. However, you can buy an attachable seat that makes it look more like a dirt bike, and makes it more comfortable to ride. 
Challenger Motor and Transmission
Powered by an 8kW Kuberg standard brushless motor, the Kuberg Challenger can reach speeds of 35mph. 
Additionally, it comes with a Kuberg BLDC Pro 8kW controller, which offers great throttle response. You can get Kuberg's 12kW controller as an optional extra if you want a stronger throttle response.
The Challenger uses a clutchless transmission, so you don't have to change gears. However, beginners will have to watch out because it can be hard to control the throttle output at first.
Challenger Brakes and Suspension
Kuberg has always been known for their high quality bike parts. The Kuberg Challenger is no exception. It comes with the latest brakes and suspension Kuberg has to offer.
Front and rear Tektro Vela hydraulic brakes keep the Challenger in check. Established in 1986, Tektro makes and distributes high-quality bicycle components. That's over 30 years of experience behind their latest product.
Additionally, it has adjustable 200mm travel RST Killah forks and a DNM Burner-RCP-3 rear shock. What's cool is that the forks come with a race bracket so you can really put it through its paces, and the rear shock has a 200lb weight limit so even heavy riders can use it to its full potential.
Challenger Wheels and Tires
Upon purchase, the Kuberg Challenger comes with tiny 20-inch wheels. You can upgrade to 24-inch wheels if you'd like. While tiny wheels may not do well on harsh terrain, they provide much better maneuverability than bigger wheels thanks to their lightweight feel.
These wheels come with high quality Maxxis off-road tires. They handle very well even in the rain. 
Kuberg Challenger Tech Specifications
Let's take a look at what makes the Kuberg Challenger tick:
| | |
| --- | --- |
| Manufacturer Name | Kuberg |
| Model Name | Challenger |
| Model Year | 2020 |
| Motor Manufacturer | Kuberg |
| Motor Model | Kuberg 8kW Brushless |
| Motor Power | 8000W |
| Motor Placement | Centrally placed |
| Controller | Optional 8kW or 12kW Kuberg BLDC Pro |
| Power Pack | 48V Lithium Pack w/ Battery Management System |
| Battery Capacity | Optional 16.8Ah or 24Ah |
| Battery Removal | Easy clip out |
| Range | 1 hour or 2 hours at constant full speed depending on which battery option you picked upon purchase |
| Ride Mode | 3 Preset Ride Modes (Power Saving, Moderate, and Sport), Can be adjusted manually via connected mobile phone using Kuberg's mobile app |
| Regenerative Braking | N/A |
| Throttle | Twist throttle |
| Gears | 1 Gear |
| Top speed | 35mph |
| Weight | 79lbs |
| Materials | Aluminum, Steel |
| Seat height | N/A |
| Suspension | 200mm travel RST Killah forksDNM Burner-RCP-3 Rear Shock with 200lbs carry limit |
| Display | None, Can be connected to Mobile Phone through optional wi-fi dongle which acts as a display |
| Purpose | Trial Dirt Bike |
| Connectivity | Optional mobile phone connectivity |
| Security | Button operated |
After-sales Support
Kuberg places a high value on customer service. You can reach them at +420 608 757 353 or via email at [email protected]. Their headquarters are located at Mankovice 158, 742 35 Mankovice, Czech Republic. 
Additionally, Kuberg has branches in New York, Florida, Indianapolis, and California. You can reach the US branch at 954 323 6531 or email [email protected].
Where can I get a Kuberg Challenger?
US residents can get the Kuberg Challenger at Kuberg's US website. Additionally, Kuberg distributes to dealers all over North America. The US has 4 main dealerships. There are dealerships in Florida, California, Indianapolis, and New York. They all offer complete service packages.
Kuberg Challenger Videos
Watch these videos to learn more about the Kuberg Challenger electric dirt bike and to see it in action:
Kuberg Challenger Choice Commentary
Here's an interesting comment we found while researching this bike:
"Just picked one up for my son… it's amazing.  definitely the best way to teach a kid how to ride.  tons of fun for adults, too.  my main bike is a zero fxs, and this little thing has way more torque off the line (it'll loop right over at half throttle).  there doesn't appear to be any of the torque limiting used on the zeros (which makes sense for a trials bike).  it's just all the jam, instantly.  love it."

-James Martin (YouTube)
Kuberg Challenger Image Gallery
The following Kuberg Challenger images might give you a better feel for the bike: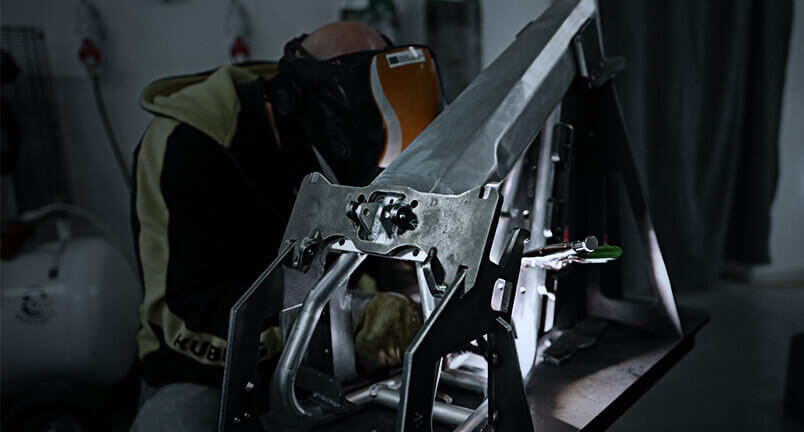 Also read: How To Transport An Electric Dirt Bike