Before looking at the difference between Dual Sport and Supermoto, why not check out our 21 Best Dual Sport Tires: Your Essential 2022 Guide article? There you'll find a whole catalog of dual sport tires that'll fit your every adventure biking needs.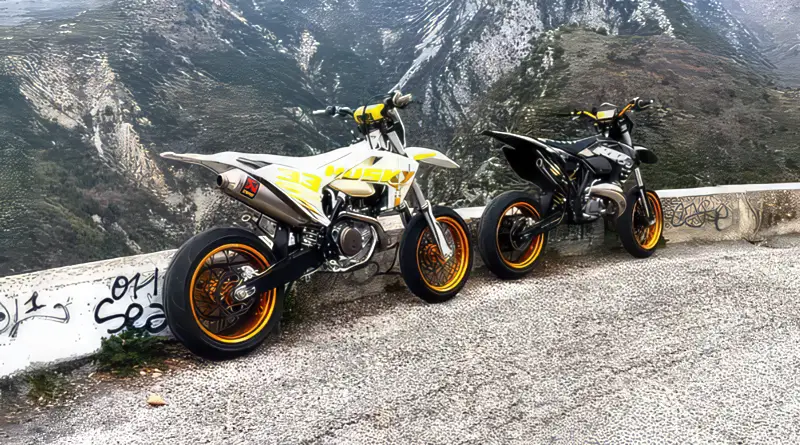 Dual sport vs supermoto – both of these dirt bike models are proving to be very popular and with the best dual sport tires fitted you can go pretty much anywhere. However, if you had to choose your ultimate bike between the two, which should you choose and do you know the difference?
In this article we take a look at dual sport vs supermoto dirt bikes and hopefully give you some insight as to which one is right for you.
What Is The Difference Between A Supermoto And A Dual Sport?
Every dirt bike is made up of a combination of wheels, tires, a metal frame and some kind of engine. So, when it comes down to dual sport vs supermoto, what sets each apart?
The main difference between the two comes down to their purpose, the tyre/wheel size, the brakes and the clearance. Let's take a more detailed look:
A dual sport is what the name says; a fun bike that can be used both on and off road, whereas a supermoto is more geared to street riding, but can be used on gravel or hard-packed dirt. 
Tire sizes: a supermoto is fitted with 17" front and rear tires to give better, more aggressive street performance and to handle tight corners at speed. A dual sport has  a 21" front tire and a 19" rear tire which makes them a very capable bike to use both on or off the road.
A dual sport is a higher sitting bike, with a higher clearance than a supermoto. This enables a dual sport to clear obstacles while riding off-road, whereas the lower clearance of the supermoto makes for a fun, fast ride.
Typically a supermoto will have more powerful brakes than a dual sport. This is to help the bike slow down or stop quickly when travelling at high speeds. 
If you are looking for a versatile bike that can go both on and off road then a dual sport bike is a geat choice. However, if you want pure street performance with a little gravel riding thrown in, then a supermoto is the better option.
What Is The Point Of A Supermoto?
Supermoto developed as a sport back in 1979 when the TV show 'Wide World of Sports' introduced a multi-disciplined motorbike race to find the best all-round motorbike rider.
The bikes were originally dirt bikes with their knobbly tires removed and road tires fitted.
Nowadays, a supermoto is the most versatile and fun motorbike available. They offer all the aggression of dirt bike riding which has been geared up for the street.
Are Supermotos Hard To Ride?
Supermotos are a very forgiving bike, so they are not hard to ride. In fact, people say that riding a supermoto is about as much fun you can have riding on two wheels!
A supermoto is basically a dirt bike that has been fitted with street tires and has had the suspension stiffened and lowered. This means a supermoto has better manouverability and improved suspension which helps to improve the riding skills of even a beginner rider.
Can Supermotos Go Offroad?
You can go offroad with a supermoto, however, because of the narrower street tires, you can't ride a supermoto on anything loose. But if you stick to gravel or hard-packed dirt roads there's no reason you can't be spontaneous and go exploring offroad.
Are Dual Sport Bikes Good For Highways?
Dual sport bikes are designed for both riding offroad and on highways. However, if you are planning on regular, long highway trips there are some things to take into consideration.
Light to mid-weight dual sport bikes are not advisable for long highway trips as they have suspension and tires that are more suited to off-road riding.
The heavier dual sport bikes, also known as adventure bikes, are better for long road trips as they have bigger engines and have been designed to be more comfortable.
What Are Dual Sport Motorcycles Good For?
As the name suggests, dual sport motorcycles are good for both street and off road riding. Because of these dual capabilities a dual sport motorcycle is good for commuting or long distances and you can throw in a bit of adventure dirt riding while you're at it!
Plus, dual sport bikes are designed to take a bit of a beating, so they are known to be tough bikes that are durable and easy to maintain.
Dual sport motorcycles have long been used in the infamous Paris to Dakar rally which covers thousands of miles of different terrain – what better way to showcase their capabilities?
Also read: Best Dual Sport Tires For Gravel Roads: What You Need To Know