People are going crazy over the best mountain bike roof racks on the market, but maybe you're not one of those. Maybe you don't want to use a bike rack at all.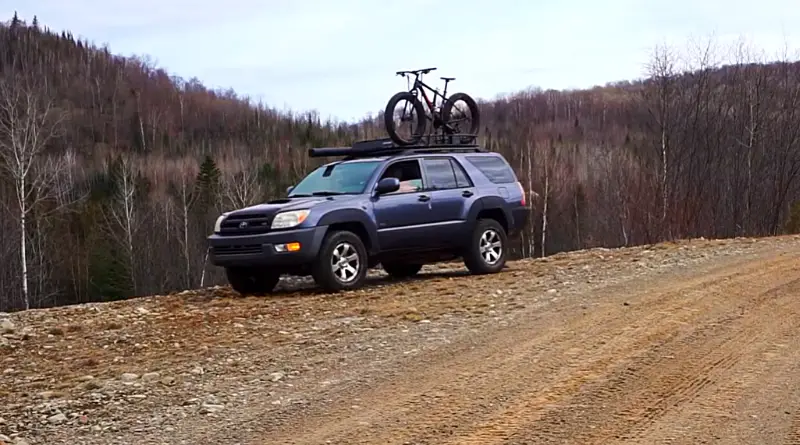 Can you carry a bike without a roof rack? Can you mount bike in the roof basket alone? Keep reading and find out whether you can eliminate the need for a bike rack completely. 
Can You Mount Bike on Roof Basket?
Technically, yes, you can mount the bike on the roof basket without a rack. You would need some strong rope—we recommend bungee cords — and some help to mount your bike. Using the rope, you can simply tie the bike to your basket.
While you can carry your bike this way, we strongly advise against it. This method is not street safe, and you run the risk of the bike toppling over or hitting vehicles behind you.  Not using a proper roof rack can risk both you and other drivers on the road. 
How Do You Put a Bike on a Roof Basket?
The easiest way to carry a bike on a roof basket is to buy a roof bike rack. These bike racks are fixed to the roof basket and are specially built to hold onto bikes. They have tracks for the wheels, straps to secure the bike, and most importantly, have been tested for durability. 
Simply purchase a roof bike rack that fits your roof basket. Install it according to the manufacturer's instructions, or have it done by a professional. Lift the bike over your head and fit its wheel into the tracks in the rack. Strap both the wheels in place, and secure the bike using the other straps given. Test to ensure everything is nice and tight, and you're done. Using a specialized bike rack is both easier and safer. 
On the contrary, you could also mount your bike without a bike rack. Can you mount bike in roof basket without a bike rack? Yes, and we've discussed how to do it below. 
How Do You Secure a Bike to a Roof Rack Without a Bike Rack? 
You can secure your bike to a roof rack without a bike rack in a few simple steps. Lift your bike on top of your head and place it on your roof rack. You can either lay it down or stand it upright. 
Laying it down will damage the bike's finish, but standing it upright can cause it to come loose. We also recommend you remove both wheels of the bike to make it easier to carry, but this isn't compulsory.  
After placing your bike on the basket,  use bungee cords to tie both wheels of the bike to the basket. Once done, secure the bike from the fork, handles, and seat too, making sure it is tightly bound before you let go. If the bike isn't moving at all, you're done. Do not travel long distances or drive fast with a bike strapped like this. Can you mount bike in roof basket or roof rack without a bike rack? Yes. But is it safe? Not really.
Also read: Are Rooftop Bike Racks Safe?