Are rooftop bike racks safe? This question is a concern for some riders, as there are some risks associated with transporting bikes on top of your car. However, the best mountain bike roof racks have been in use for a long time.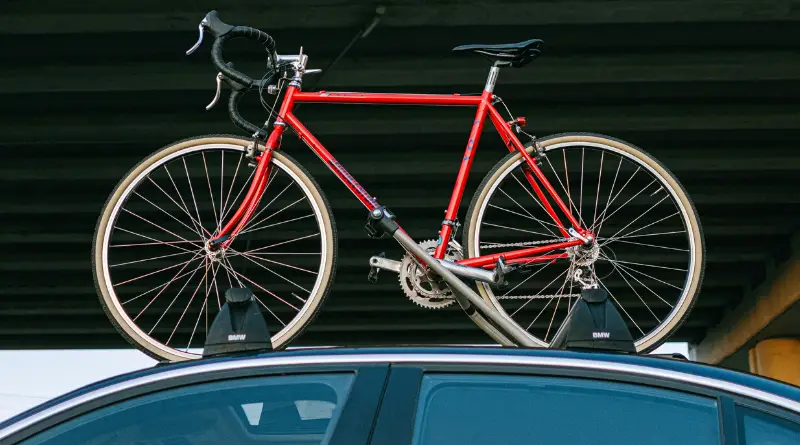 We aim to highlight the dangers associated with using rooftop bike racks. So keep reading to better understand the risks of carrying bicycles on the roof of your car.
Are Rooftop Bike Racks Safe?
Rooftop bike racks are safe and have been in use by both professional and amateur cyclists for many years. If the rack has been installed correctly and you're not planning to lift heavy bikes onto the roof of your car then a rooftop bike rack is a good and affordable option. 
While the question of rooftop bike racks safety has been a source of concern to some cyclists, the dangers associated with transporting bikes on top of vehicles is minimal.  
However, it is important to take proper care with the installation and loading of these types of bike racks in order for both the rack and your bike to remain secure during transportation. 
Additionally, cyclists should take into account the extra height as you won't be able to drive into your garage or underground parking lots with your bike loaded.
With these tips in mind, it is possible for cyclists to safely use rooftop bike racks with confidence.
Do Roof Bike Racks Damage Your Car?
Risk of damage to your car is minimal with a roof mount bike rack, but may happen if you don't install or use it properly. 
In addition, it is important to research the compatibility of each brand's product with your vehicle before you buy. As well as familiarize yourself with the manufacturer's instructions for use. 
We also recommend that you secure your bike tightly to the rack in order to prevent any potential shifting while driving. Plus you should regularly check all the components of the rack including straps, locks, and mounting hardware for any wear and tear.
Furthermore, it is imperative that you pay close attention when loading and unloading bikes from rooftop racks in order to prevent any scratches. If used correctly, your car will remain safe from any unnecessary damage when transporting your bike using a rooftop bike rack.
Is It Safe To Put A Bike On A Roof Rack?
As long as you're not lifting a heavy bike, then yes, it's safe to put a bike on a roof rack.
However, there are some other things to take into consideration:
Proper care must be taken with the installation of your rooftop bike rack
Your bike will be secure as long as you follow the instructions about how to secure it
If in any doubt, use an extra strap
Buy a rack that locks to your car, and a locking mechanism to lock your bike to the rack
Avoid low clearance areas
Additionally, it is important to regularly check all components including straps, locks and mounting hardware, and take extra caution when loading or unloading your bike from a rooftop rack in order to prevent any accidental damage from occurring.