You've just bought the best RV bike rack that you can find out there, but now that you've brought it home, you can't help but wonder, "can my RV bumper support a bike rack?"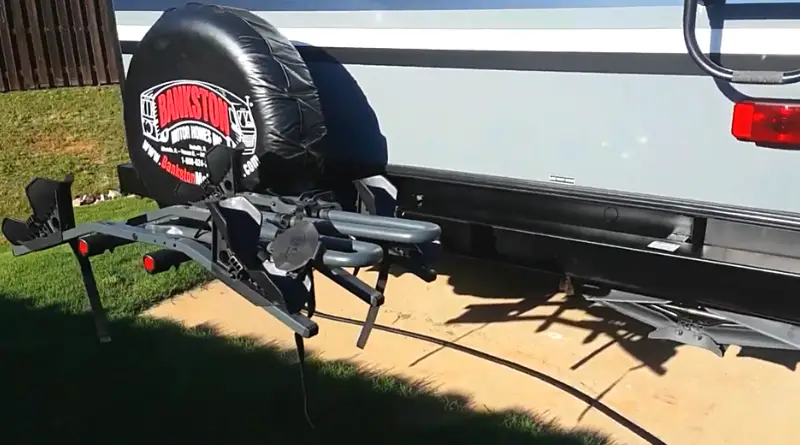 Taking your RV out on a trip wouldn't be complete without having a bike rack to carry your two-wheelers. There are a lot of types of racks, but none is quite as popular as the bumper-mounted bike rack. 
So keep on reading to find out whether your RV's bumper can support your bike rack, and what factors you have to consider while mounting it.
Can My RV Bumper Support a Bike Rack?
While an RV bumper can definitely support a bike rack, there are a few factors to take into consideration. Bumper-mounted RV racks are very popular among motorhome drivers. However, while RV bumpers can have bike racks fixed to them, you'll have to get the bumper reinforced before you drive.
Otherwise, your bike rack might not fall off completely – even though that is a possibility too – but your bikes may start scraping against the ground. 
As long as you have a bumper measuring 4 by 4 inches, you can easily install a bike rack to it. The rack can be attached to the bumper using bolts and the attachment points given on it. 
We recommend a rack that has at least 4 attachment points, as that'll prove to be the most stable. If your camper trailer has a metal bumper, you can attach a bumper-mounted rack to it. However, you can also use a hitch-mounted rack on the back of a camper trailer. 
How Heavy of a Bike Rack Can a Travel Trailer Bumper Support? 
A bike rack mounted on a travel trailer bumper can carry about bikes weighing up to 150 pounds. A normal bumper-mounted bike rack will easily weigh anywhere from 30 to 50 pounds, and you can expect the bikes to weigh more. 
We do not recommend more than 2 bikes on the rack, and even that if the bumper is reinforced. In fact, it's best to stay under the 120-pound limit, so that you can accommodate your center of gravity shifting forward or backward while going up or down a sloped road.
How to Reinforce an RV Bumper for a Bike Rack? 
The easiest way to reinforce your RV's bumper for a bike rack is to weld long pieces of steel to the underside of it. You can use a large plank of steel, or take smaller rods and weld them frame to frame. 
You can also use an angle iron frame that'll go right under your bumper to give it some extra support. Additionally, if you're looking for a very heavy-duty upgrade, you can look into replacement bumpers for your RVs. 
Companies produce replacement bumpers from heavy-duty materials like aluminum, especially for recreational purposes.
Also read: Which Bike Racks Are RV Approved?