Are trunk bike racks safe for long distances? And does investing in the best truck mounted bike racks on the market make a difference in performance? Questions like these are common when you consider hauling your bike using your car.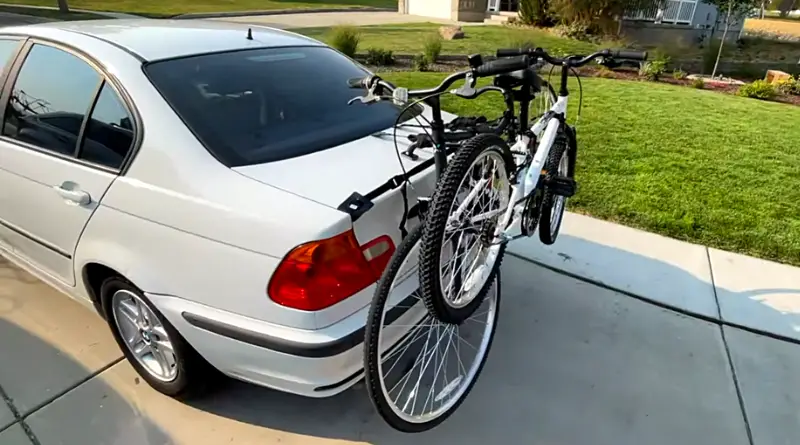 When you've got thousands of dollars worth of bikes attached to the back of your car, it's normal to be anxious when driving long distances. It could take as little as a loose strap or a strong jolt for the bikes to come crashing to the ground. Keep reading to find out if you can trust trunk-mounted racks to keep your bike and car safe. 
Are Trunk Bike Racks Safe for Long-Distance?
Trunk bike racks are definitely safe for long distances. Trunk bike racks are secured to the trunk of the car using straps, cradles, and arms. As long as you keep your load under the manufacturer's given weight limit, the straps should not rip. 
Trunk racks are the best option for hauling bikes when covering long distances. Unlike roof racks, when attached to trunk bike racks, the bikes don't have to bear a lot of air pressure. This prevents them from getting damaged, gives you better gas mileage, and also allows you to drive on low-clearance roads. 
Are Trunk Bike Racks Reliable?
If installed properly, trunk bike racks are one of the most reliable types of bike racks on the market. They are made of strong metals and are tested to be safe to drive with. Just make sure the straps are firmly secured. 
If the straps are loose, the rack may dangle or even fall off, causing quite a bit of damage to both your wallet and your bikes. 
How Much Weight Can a Trunk Mount Bike Rack Hold?
Most trunk bike racks cannot hold more than 35 pounds of weight, but some heavy-duty racks can bear up to 80 pounds too. Still, you shouldn't mount more than two bikes on a normal rack, or you could risk it breaking off. 
A normal bike rack should not be used for heavier vehicles like electric bikes. You can find special racks for those in the market. 
How Do I Protect My Car From a Trunk-Mounted Bike Rack Scratch? 
The easiest thing you can do to protect your car from scratches from a trunk-mounted bike rack is to ensure no part of the bike is coming in contact with your car. Otherwise, as the car moves, the bike will rub against the finish of your vehicle. Also, tie down any moving parts of the bike to prevent damage down the line. 
Finally, metal hooks attached to the straps of the trunk rack may scratch the paint off your car. You can find a lot of scratch protectors on the market to prevent this. There are two main types of protectors: rubber hook covers and protective films to be stuck on the car. Both of these options are affordable and work great. 
If you're looking for a quick fix, stuffing towels between your rack, bike, and the car can do wonders. Be careful though, because while the trick is easy, it's not entirely safe, and will need to be adjusted frequently. 
Also read: When Might A Trunk-Mount Rack Be The Best Choice?