Pickup trucks are very convenient for people who need to haul bikes. The best pickup truck bike racks are sturdy and allow you to haul your bikes comfortably. However, what is the best bike rack for a pickup truck? And what do you need to look for before making your purchase? Read on to find out what the best bike rack for a pickup truck is and how to use it.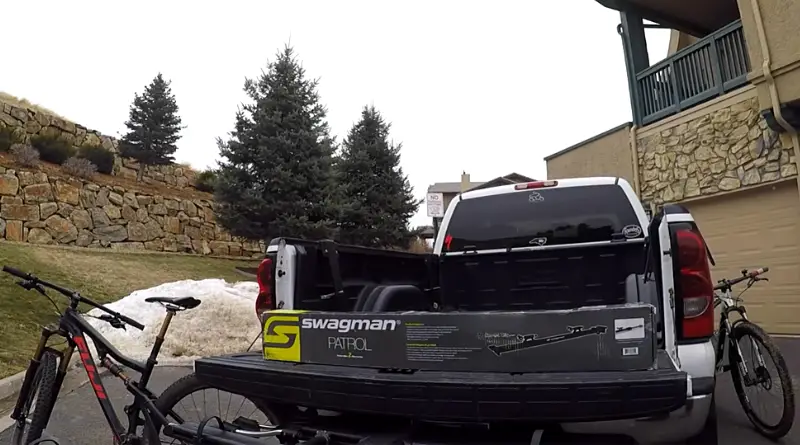 What Is the Best Bike Rack for a Pickup Truck?
Our answer to the question "what is the best bike rack for a pickup truck?" is the Thule XSporter Pro 500XT. Weighing 57lb/29kg, the rack has a maximum load capacity of 450lb/204kg and costs $999.95.
Made especially for truck beds, the XSporter features bars with adjustable height, making it easy to mount and remove your bikes. Designed for superior aerodynamics, the rack redirects airflow and helps improve fuel economy. Additionally, Thule has included straps to support heavy loads and a locking mechanism to keep everything safe. 
Can You Put a Bike Rack on a Pickup Truck?
Yes, you can put both rooftop bike racks and truck bed bike racks on your pickup truck. Truck bed bike racks are more popular because they can carry more weight, and it's more convenient to mount the bikes on them. Moreover, you do not have to disassemble the bike to mount it to the rack. 
Hitch bike racks are another favorite for pickup truck drivers. All you need is a 2″ hitch receiver to mount them, and they can carry a lot of weight too. Hitch bike racks are also perfect for long distance travelling, and are both easy to install and take off.
Still, if you want to keep your truck's bed and hitch, free, a rooftop rack would work too. However, not only will it carry less weight, but it will also affect your fuel economy, and can be dangerous for long-distance traveling. Additionally, not all truck roofs are large enough to accommodate a rooftop rack. 
How Do You Carry a Bike in a Pickup Truck?
You can technically carry a bike in a pickup truck. A rooftop bike track will require you to have roof bars professionally installed, and then the rack will be attached to them. 
However, you can simply follow the manufacturer's instructions to mount the truck bed bike rack onto your truck. For both racks, mount your bikes into the slots given in the rack, and then secure them using the given straps. If you're not using any racks, you can try doing it at home too. We've discussed this below. 
How Do You Strap a Bike on a Truck Bed?
You can strap a bike onto a truck bed by following a few simple steps:

1. Place it upright near the center of the truck
2. Use bungee ropes or soft straps to secure the bike to the truck until it stands straight without support
3. Test the ropes to ensure they are tight and the bike doesn't move
Be sure your bike isn't too close to the edge, so a jolt can't make it topple over. Also, be cautious of your speed when driving. Although this method is effective, it is not as safe.