The SUPER73 is one of the most famous mini e-bikes in the world and upgrading its battery is all the rage right now. We've discussed a SUPER73 dual battery mod upgrade below, but you can also check out the Best SUPER73 Battery Upgrade Options.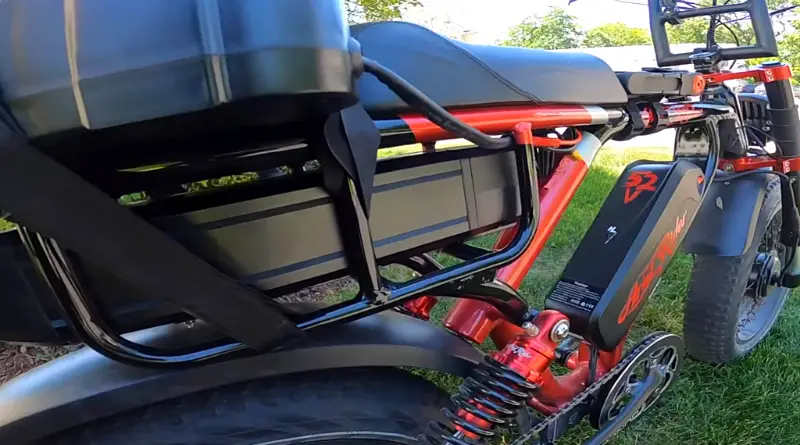 A SUPER73 can easily run at 20mph, and the bike's battery lasts 30 miles, which is a pretty good range. However, if you want something a little stronger, you're in luck because we're going to go over how to upgrade your battery at home below too.  
Why Upgrade Your SUPER73 Battery? 
There are two reasons why Super73 lovers upgrade their e-bike's battery: more speed and increased range. Using a battery that provides more amperes per hour can increase the speed of your bike. Additionally, using a bigger battery can increase the distance you can cover per charge. 
While it may seem like a pretty sweet setup, bike upgrades don't come without problems. The biggest issue for bikers is the cost associated with the upgrade. Additionally, if your bike has a manufacturer's warranty, SUPER73 will refuse to honor it because you've made a change to the core structure of your bike. 
Finally, if you're upgrading to a dual battery mod, you're going to have to charge both of those batteries separately. 
Will a SUPER73 Dual Battery Mod Boost Range? 
Yes, it will. You can either connect both the batteries in a parallel setting or use one as a power bank or backup battery. In a parallel setting, the output voltage produced by both the batteries is equal to that produced by one, only the amp hours are doubled. The parallel system provides current for a longer period. 
If you're using the second battery as a power bank, the bike will automatically convert to the second after the first is depleted. In both these scenarios, the bike's range is doubled. 
How Do You Install a SUPER73 Dual Battery Mod Upgrade? 
To connect a second battery to your SUPER73, open the underside of your seat where your controller is. Put your hand inside and find the thickest cable, which should be your controller cable, and then unscrew it. 
Use an adapter and connect it to both ends of the controller, and use zip ties or tape to secure the cover back on. Finally, use an XT-60 cable to connect the adapter down to the second battery. 
You cannot run the bike on the secondary battery only. You either have to use the original battery or use both at the same time, in parallel. Additionally, both batteries should be charged to the same amount of volts to prevent the wires from overheating. 
Once your bike is powered on, wait a few minutes to check if something's overheating. Otherwise, your SUPER73 dual battery is ready to go. 
Conclusion
Tweaking your electric bike to unlock its full potential is a good thing, but be careful with what you're doing. If you're new to e-bikes, or your SUPER73 is recent, you might want to stay away from upgrading it. E-bikes are expensive, and voiding the warranty may cost you more in the long run.