Motorcycle camping is the perfect adventure for thrill seekers. The freedom of being able to go wherever you want and to explore the world is a joy thousands crave. However, the one thing every good motorcycle camper needs is a motorcycle sleeping bag. But just what are motorcycle sleeping rolls? What purpose does it serve? And where can you find the best one? Scroll down to find the answers to all these questions.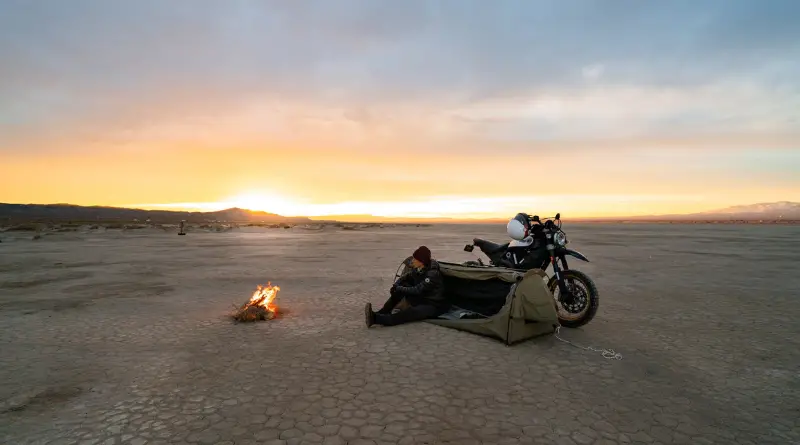 Motorcycle Sleeping Rolls: Are They Even a Thing?
To put it simply, motorcycle sleeping rolls are compact sleeping bags that have been rolled to make them easier to carry. This makes them perfect for bikers because motorcycles don't have a lot of space. 
Motorcycle sleeping rolls are a necessity for every camper, and one of the most important investments you will need to make. As we'll discuss below, sometimes, a good sleeping bag can become the difference between life and death. 
Why Do You Need a Motorcycle Sleeping Roll?
Motorcycle sleeping rolls are meant to provide a motorcyclist with a place to sleep when no other is available. It traps your body's heat and prevents it from getting lost in the environment. When you're camping on a motorcycle, you can't always carry things like tents. Motorcycle campers sleep in the open, where temperatures can experience drastic drops. Sleeping bags come with temperature ratings, which is the lowest temperature at which the bags will keep you alive.  
Motorcycle sleeping bags are also waterproof, further protecting the rider from the elements. They also act as mattresses of sorts, improving a rider's quality of sleep by providing a buffer against him and the harsh ground. Additionally, sleeping bags also protect you from insects of all kinds, which can even be carrying diseases. 
What Is Motocamping?
Motocamping or motorcycle camping is when you go camping with your motorcycle as your primary means of transport. You can travel anywhere, with your motorcycle acting as your home base. Motocampers carry all their necessities on this bike. They spend the day driving and exploring, and the night sleeping in different camping spots. 
Best Sleeping Bag for Motorcycle Camping?
The SnugPak Travel Pak 1 is the best sleeping bag for motorcycle camping you'll find. It is both compact and lightweight and comes with a ton of helpful features. 
Weighing 850 g, the sleeping bag measures only 18 inches in length when rolled up. It has an inner lining of Paratex, an antibacterial fabric that prevents odors while the bag is wrapped up. The outer layer of the bag is made of HEX Rip-Stop, while SnugPak's special Travelsoft fabric is used to insulate the bag from the inside.  A mosquito net has been built on the inside, along with pockets for your valuables.
The sleeping bag has a temperature rating of  2°C  or 36°F, while its comfort rating, or the temperature at which you'll be warm in the bag, is, 7°C / 45°F. The Travel Pak 1 is our pick because it can be used in both warm and reasonably cold temperatures.