When looking for the best RV bike racks on the market, you may have come across the T2 Pro by Thule. And if you're looking into it, one of the questions in your mind might be "Is the Thule T2 Pro XTR RV rated?"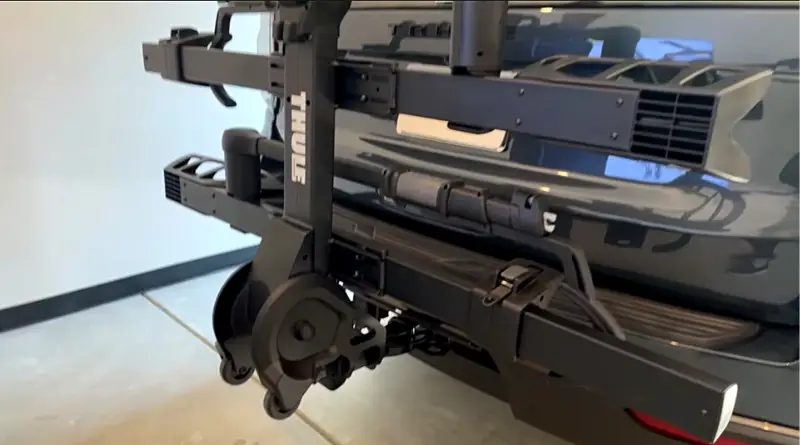 After all, not all bike racks work for RVs, and using a bike rack that is not RV-rated can revoke both your rack and RV's warranty. Read on to find out if this is the right rack for your RV.
Is the Thule T2 Pro XTR RV Rated?
No, this bike rack is not safe for use on RVs. The fitting compatibility manual on Thule's website specifically states that the rack should not be used on RVs. 
Does that mean it can't be used on an RV? Of course not, to be mounted, this Thule hitch rack needs a class 3 to 5, 2" receiver. These hitch receivers are present on most RVs, so mounting the rack is possible, despite the answer to the question "Is the Thule T2 Pro XTR RV rated?" being a no. 
However, even though you can still use this rack, it will not be safe. We recommend you look into other racks for your RV because the risk of using an unrated product is very large.
RVs experience strong bumps and shocks, especially on the back end of the vehicles. This is because RVs, especially Class C motorhomes, have stiff suspensions and a lot more weight than other cars. Not all bike racks can bear these bumps, and if the rack falls, you could suffer thousands in damages. 
What Is the Difference Between Thule T2 Pro XT and XTR?
The biggest difference between the two racks is the integrated wheels you get in the XTR. These wheels allow you to move the rack around easily, which is a game changer given it weighs a whopping 52lbs. 
Additionally, the XTR and XT are priced differently. Unsurprisingly, the XTR costs more than the XT because of its upgraded design. You can get the T2 Pro XTR for $899, and while Thule has since discontinued the Pro XT, you can still find it with some sellers for $600-$650. 
How Much Weight Can a Thule T2 Pro XTR Bike Rack Hold?
The bike rack has a maximum load capacity of 120lbs. Sticking to this limit is important given the rack's two slots. You should avoid overloading the rack, which could cause it to break. 
Also, be careful to follow the max tongue weight capacity of the hitch you're hooking the rack to. If the hitch breaks off, no amount of precaution can save the rack or bikes. Thule also warns against using their racks with hitch extenders of any kind. 
These rules may seem like a lot, but breaking them can cause harm to both you and other drivers on the road. It is best to be cautious at all times.