Roof bike racks can often end up being more convenient than hitch racks, even when they lose out on stability. Whether you have a mountain bike or an e-bike, and are looking for more info on the Best Mountain Bike Roof Rack, a roof rack will be your best friend. But how do you lift a bike on a roof rack? Keep reading to find out the correct method and all our little hacks for lifting bikes on roof racks below.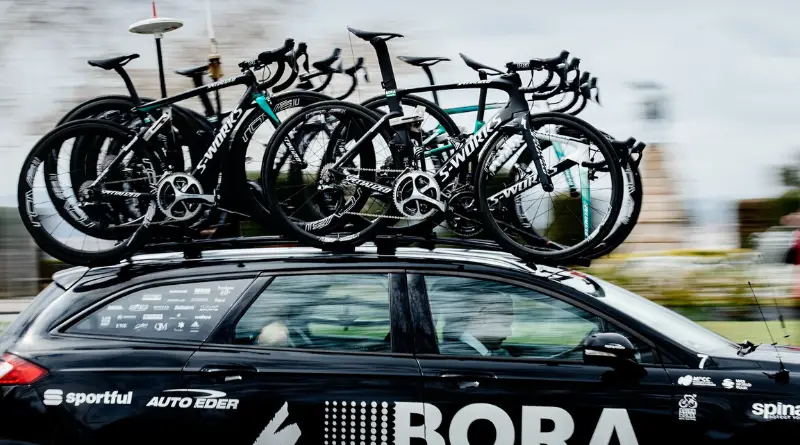 Can You Carry a Bike on a Roof Rack?
Carrying a bike on a roof rack is entirely possible. Roof bike racks are one of the safest bike hauling options on the market. You can safely carry up to 4 bikes on top of your car as long as they are secured tightly. The only problem with the rack is that it can be difficult to lift the bike onto it.
How Do You Lift a Bike on a Roof Rack?
Bike racks come with frame clamps that hold the bikes in position. The first thing to do is to make sure this clamp is in a straight position. Then bring your bike parallel to the side of your car, leaving a little space in between. Bend your back and place one hand on the frame and the other on the fork of the bike. But, remember to lift with your legs, not your back. 
You should be able to pick the bike up in one smooth motion. Don't immediately place the bike on the rack. Instead, make sure the bike is straight and your grip is firm. Then carefully place the bike on the rack and secure it with the straps. 
Don't move the bike around on the rack or you'll dislodge the frame clamps. If the positioning isn't right, take it off and lift it again. Once the frame clamp has been tightened, ensure the bike cannot move and you're done. 
How Do You Secure a Bike to a Roof Rack Without a Bike Rack? 
You can use common bike locks to secure your bike to your roof rack. Using ropes is another possibility, but we recommend something stronger. Place the bike on top of the rack and secure it from three positions: both wheels and the frame. 
You need to secure both of the wheels so that they don't rub against the car's finish. If you're having problems securing the wheels, you can temporarily remove them too. This is a really good option for long-distance travel. 
While you can haul a bike with only a roof rack, we recommend you invest in a roof bike rack. Not using a special rack is a real risk to your car, your bike, and other drivers. 
Does a Roof Bike Rack Damage Your Car Roof? 
Technically, a roof bike rack should not damage your car at all. Roof bike racks are made to be safe, and do not scratch or dent your car. However, damage is a possibility if you don't secure your bikes right. Bikes on roof racks bear a lot of air resistance and wind drag, and if secured loosely can come tumbling down. 
Finally, if you're still concerned about possible scratches, you can also use an anti-scratch film on the roof of your car.
Also read: How Many Bikes Can Fit on a Roof Rack?