When buying a child's electric motorbike, 36V seems perfect for the motor to some people, while others find it a bit too strong. Either way, if you're thinking of buying an electric dirt bike for your kids, you can read about them here—the 11 best electric dirt bikes for kids in 2022.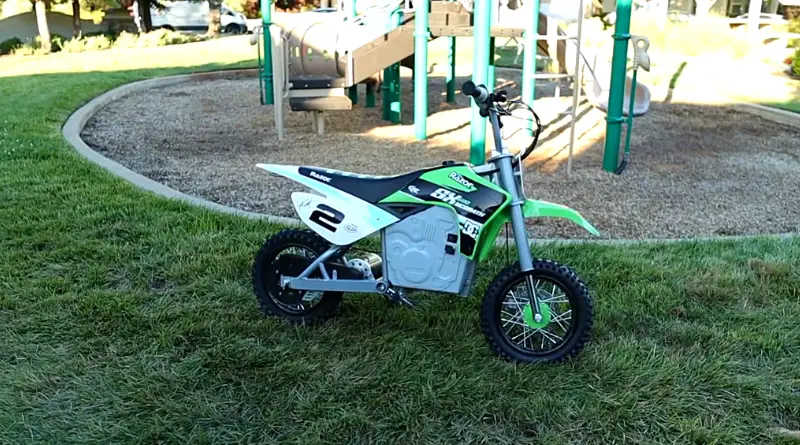 Also, keep reading our recommendation for the best 36V electric dirt bikes for your young ones.
Child's Electric Motorbike: Which Do We Recommend?
We recommend the MotoTec Pro Electric Dirt Bike as a child's electric motorbike. Retailing at $489, the bike has a 1000w, 36v motor that gives it a top speed of 16mph. The bike is undoubtedly very slow for adults, but the speed is perfect for kids. 
Made for kids that are 13 and older, the bike weighs 53 lbs and can go up to 2 hours on a single charge. It also has a speed control setting that prevents your kid from increasing their speed without permission. For this child's electric motorbike, 36V is perfect for the motor. 
The Razor McGrath Dirt Rocket SX500 is another good vehicle to look for. With a 36V motor, the bike can reach a top speed of 15 mph and can go on for 40 minutes of constant driving. Made for children 14 and older, the bike can handle 175 lbs of weight. It does require 8 to 12 hours to fully charge though. Still, the bike is perfect for children and is cost-friendly too. 
How Fast Does a 36 Volt Electric Dirt Bike Go?
A 36V electric dirt bike can normally go up to 16 mph. However, this depends on a ton of different factors, including the bike's wattage, the vehicle's weight, the rider's weight, and the terrain you are driving in. 
If you want a faster bike, you can look for 64 V bikes. Similarly, if you think 16mph is too fast for your child, you can even go for children's dirt bikes that have a voltage of 12V. 
What's the Best Electric Dirt Bike for Kids?
The Apollo DB-10 Electric Motorcycle is the best electric dirt bike for kids. Made for children between the ages of 5 and 9, the bike is a sight to behold. It retails for $674.99 and can go 9.4 miles per charge at a speed of 15mph. The bike weighs 66 lbs and has a seat height of 22.8 inches. 
The bike has a 500W 24V motor, and we love how all of its parts are universal. This makes the bike easier to repair, which is a big pro when it comes to stuff for children.
Some users find the bike's 9.4 miles range a little lacking, but for its performance and price, the bike is perfect. The Apollo DB-10 also proves that when it comes to a child's electric motorbike, 36V isn't always necessary. The Apollo has a 24V motor and is still perfect for kids.